For the full moon this morning I found myself at a friend's house about 5 miles up a winding mountain road from Boulder. The view from up here is always a gift. City lights of Boulder in the distance… Louisville beyond that, and eventually Denver.  More often than not when I'm up here, the sun rises in brilliant silence. This night was especially calm for hilltop areas like this… I brought my camera gear up in anticipation of a sweet sunrise. Rocks came into the picture when I realized how still the air rested…It feels especially quiet to observe the city lights from an elevated distance.
My first idea was to get the city lights behind a moonlight balance. Check. Then I began to play around upon realizing several interesting angles of the small outcrop of rock. Especially with the Full Moon glow. To get a decent exposure with low ISO, my shutter speed required 20 seconds to collect sufficient light. The challenge was staying still in the pose for a continuous 20 seconds, while noticing a steep drop just below my feet. Even with balancing myself there was a still point, in which balance felt natural and undisturbed. It was much harder to maintain the still point with a dynamic and "wiggly" system like my body.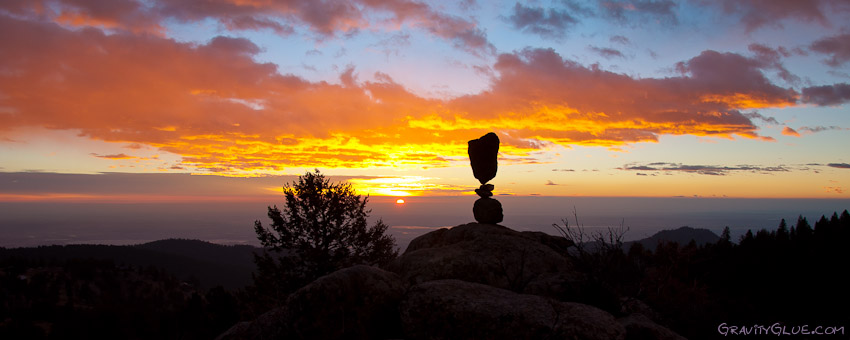 This is the kind of of colorful sunrise I was hoping for when I initially brought my camera with me into the mountains.. The sunrise built up for nearly half an hour before it EXPLODED with color!!  Absolutely breathtaking!  I think this was captured at around 7:17 am that morning according to my camera.. As evidenced by the balance, which is slightly different from the night photo, the morning carried an intense calm.  Even the slightest breeze would have toppled this balance, but the cool mountain air rested as if in awe of the rising sun.
Moments like these always make me think of a special poem by William Blake..
"He who binds to himself a joy,
Does the winged life destroy.
He who kisses the joy as it flies
Lives in Eternity's Sunrise."
There was a group of people at the same house sitting in a hot tub close by… Through making this balance in silence, I acquired the label "Wizard" by the hot-tubbers.. ha… :D