"Tomorrow and plans for tomorrow can have no significance at all unless you are in full contact with the reality of the present, since it is in the present and only the present that you live."
~ ALAN WATTS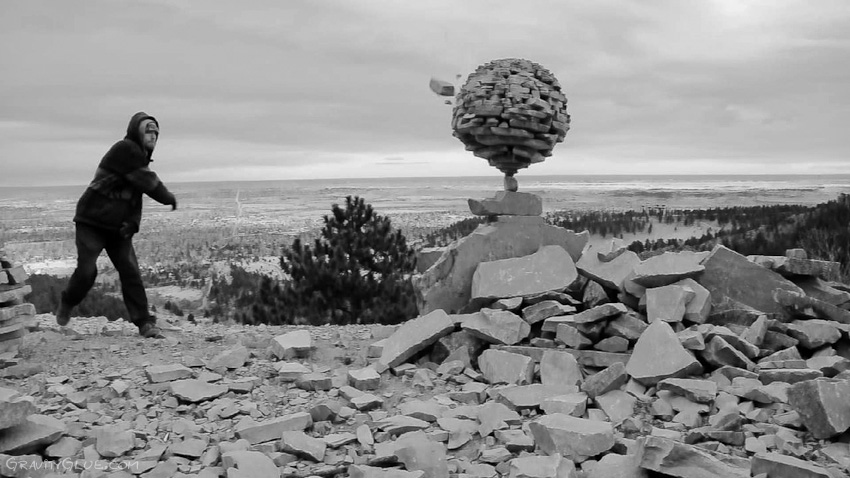 This is a screen-grab from a video I recorded yesterday up at the quarry… I've become fascinated with collapsing these orbs just as much as building them. Collapsing them really seals the process.  It balances the balance…   While gently teaching practitioner about letting go. This is a great example. 4+ hours of work versus a 2 second collapse. I used to be a fastball pitcher as a kid and i really need to pitch a fair chunk of rock at it for anything to happen… these orbs have SO MUCH inertia!!  This picture records the split second after impact when the balance disappears.
I know there is a lot of hype around the solstice this year. We seem to be in the midst of accelerated change everywhere. I wonder if we are all to experience a drastic shift in the flow of creation. I can't imagine how/what or even if something magnificent or tragic will happen.  Endless possibilities.  But I have to admit that I feel a slight rise in anxiety from the individual level all the way up to the global level… Curious if something might happen, and if so, WHAT?
then on the other hand, perhaps it's best to heed the wisdom of Alan Watts on this matter..
One thing for sure is I'm still having fits of smiles and laughter… for no apparent reason.