Tag Archives:
Talent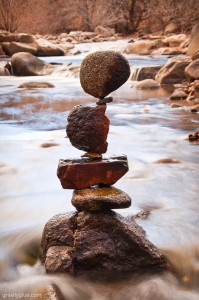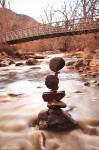 "Talent hits a target no one else can hit;
Genius hits a target no one else can see."
~ Arthur Schopenhauer
Twilight balance.
Another brilliantly warm sunset glow as the sun continues projecting its light off of the visible clouds while itself disappears behind the mountains.  The result is an intense shift in light and mood; surreal in its affection. And the affect grows more intense as I move further UP creek under the growing loom of the mountains.
I had to use the more extreme white balance settings on my camera just to make the colors look normal. Multiple times per week, people from all over the front range in Colorado post photos of radiant sunset colors on Facebook.  Possibly my favorite times of day to shoot photos of rocks are sunrise and sunset. Especially in the colder months.  It takes more determination to work in the cold, but in exchange are some of the quieter, more peaceful experiences.
This balance took some high discipline and endurance to realize. For size comparison, I was barely able to lift the top rock with one arm. All the big ones below required both arms.. Not to mention freezing water.  I invested in a pair of waste high waders for these cold months. They work for being waterproof, but no temperature barrier really so my feet will still freeze after extended non-movement.  This balance was slightly frustrating in the sense of cold water and precision.  Part of me wanted to give up as the light began to fade.  But I KNEW it was possible. I could see the balance points and I had come so close to realizing it many times. Couldn't use gloves for this one. Extreme sensitivity required, which was already slightly depressed by the cold water all over the rocks…  But DAMN it felt good to finally get it after working for so long… And the best part was that the sunset glow began moments later and lasted for about 20 minutes.  I worried that it would fall as I hobbled out of the creek to get my camera.  But I had a deep down feeling that it wanted to be recorded with twilight in all of their collective genius. :)