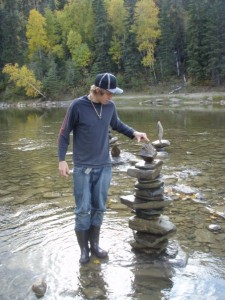 "In many shamanic societies, if you came to a shaman or medicine person complaining of being disheartened, dispirited, or depressed, they would ask one of four questions.
-When did you stop dancing?
-

When did you stop singing?
-When did you stop being enchanted by stories?
-When did you stop finding comfort in the sweet territory of silence?
Where we have stopped dancing, singing, being enchanted by stories, or finding comfort in silence is where we have experienced the loss of soul.
Dancing, singing, storytelling, and silence are the four universal healing salves."
- Gabrielle Roth
Photo courtesy of L.B.
This picture was taken in Pembina River, Alberta, Canada (just outside the town of Entwistle) during my first Fall of rock balancing… just over 4 years ago… Pembina is a sacred place for me. It was a frequently visited spot with family almost every summer of my childhood. I think being exposed to this kind of scenery so much as a kid had an effect on my attraction to Boulder Creek … and my familiarity to silence.
First thing I notice when I look back on old pictures like this is the evolution of experience and style.  Ha.. this was just after graduating from College. In some ways I feel as if I've learned more while rock balancing than in my college career.  However, one would not have happened without the experience of the other.  Every day led me one step closer to being in a specific time and place with a specific person.. to uncover a new found passion.
Most valuable lesson so far…? It's all there inside you. happiness. Love. everything. some might say that there is a very small point inside the heart muscle that is actually a microscopic black hole, generating the magnetic fields of our bodies. Perhaps death is simply the inevitable collapse that black hole. I'm no expert. do your own research.