Prints and Licensing
Printed images are high resolution
Prints are made with high quality archival inks
Dimensions listed are measured in INCHES. Most photos have 2×3 proportions
Professional Photo Paper w/ lustre coating (Print Only)

12×18…………………..$40
16×24…………………..$70
20×30…………………..$100
24×36…………………..$140
Fine Art Watercolor Paper (Print Only)
12×18…………………..$100
16×24…………………..$130
20×30…………………..$180
24×36…………………..$240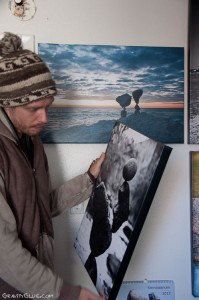 Giclee Canvas Wrap w/ 1.5″ black border wrap. sawtooth hanger and black paper backing (Ready to hang)
~ mirrored border wrap – add $10.00
12×18…………………..$160
16×24…………………..$220
20×30…………………..$290
24×36…………………..$360
 ***In this photo I am holding a 16×24 canvas print with a 1.5 inch black border wrap. The print on the wall behind me is a 30×20 inch canvas with the same kind of border wrap.
Shipping Information
All prices include standard UPS ground shipping within the continental United States

Overnight shipping available (+ $10.00)

International shipping is available and will be calculated based on address, then added at cost to the subtotal. please contact me for estimates.
Please allow up to 1 week for processing before your order ships
HOW TO ORDER:
Each image in the 2012 gallery has an attached number. Either note the image number OR the blog post title in which the image appears.
choose image(s) and print options (above). Email me here, let me know.. gravitygrab@gmail.com
Questions? feel free to ask.
if/when it's time, payments are made via paypal.
LICENSING
In a nutshell, if you share my work online, please don't alter my images/watermarks. they are there so people can find more.  Bottom line is be respectful of my work. If you have any concern, email me with what's on your mind… I'm pretty flexible..
All "gravityglue.com" photography is under ownership and copyright of Michael Grab/Gravity Glue.
low resolution Images found on my website may be *shared as long as they remain unaltered with the "gravityglue.com" watermark present.
*sharing includes: blog posts about, and sharing of, Michael Grab/Gravity Glue art.  DOES NOT include use in your website framework.
*Direct permission (and possible fees) apply when gravity glue images are desired for site frameworks and/or promotion of anything other than Michael Grab/ Gravityglue.com.  If i don't agree with the direction or intention of your business/profession.. i will not allow my images to promote such.
If you want to show your physics students something cool….. go ahead!  Though, please do not alter the images. They are all, in fact, pure balance.  Also, I like stories/questions. Let me know. Inspiration. :)
High Resolution
All Photos are sourced with high resolution.
License/Agreement is required with owner Michael Grab for any kind of high resolution image use.  Fees may apply depending on project details, image(s) choice..
Michael Grab: gravitygrab@gmail.com