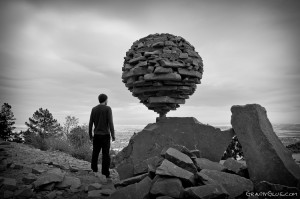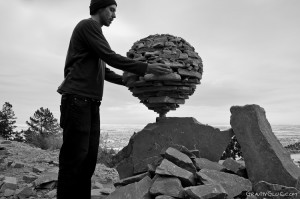 "What you pay attention to is what you become conscious of.  Always."
~ Unknown
This is the third orb-looking thing I've completed now since the first one last week. Making them so far has been extremely contemplative.  So much care and attention must be paid to the overall balance the entire time. If not observed carefully, one small rock can bring down the massive blob of rocks. I had it happen at the end of an attempted blob…the one that would have been done before this one. LEARNING EXPERIENCE. So I took the lesson and applied it to this particular blob. This one actually rocked in the wind and scared the hell out of me a few times.
My body closely tuned with the feeling of the blob. There's a point of feeling when I KNEW it would collapse without me. Instant adrenaline.
I really love this place.  It is so quiet and relaxing. And the hike I make to get here kicks my ass every time. I always arrive to the quarry huffing for breath. But the strenuous lung exercise has a purifying quality.  As if my spirit is cleansed by really pushing the limits of my own breath. I arrive with a clear spirit, and an activated creative instinct…. Deeeeeeeeep Breeeaaath…
**Notice the small point of light in the top picture.. near the horizon to the right of the globe, but still in the sky. I imagine with its brightness it might be another planet?  Does anyone have any insight? Photo was taken December 1st 2012 at 4:46pm MST. camera view is pointing NE, so the light is prolly closer to due East.